It is that time of the month when the most crucial economic statistic for the UK is released. This has been true for a while although it was the unemployment numbers for the UK out of the labour market release that took centre stage for some time post credit crunch whereas now it is the wages or to be more precise average earnings numbers that do so. Sadly there are plenty of problems with this series so let me remind every one of the most glaring error.
The self-employed, HM Armed Forces and Government Supported Trainees are excluded from the statistics.
I have to confess a little bemusement as to why we exclude the armed forces but that merely adds to the issue of excluding the self-employed from the numbers. This is an issue in itself by is particularly highlighted if we look at a report conducted by the Office for National Statistics in August 2014.
Self-employment higher than at any point over past 40 years • Rise in total employment since 2008 predominantly among the self-employed
So we exclude what was then the fastest growing group? Let us look further into the detail.
Total employment in the second quarter of 2014 was 1.1 million higher than in the first quarter of 2008, just before the economic downturn that hit the UK. Of this increase, 732,000 was among people who are self-employed so the rise in total employment since 2008 was predominantly among the self-employed.
If we look into the numbers we see that it is now a substantial proportion of the workforce.
In 2014, 4.6 million people were self-employed in their main job accounting for 15% of those in work, which is the highest percentage at any point in the past four decades, since data were first collected. There were also an additional 356,000 employees who had a second job in which they were self-employed.
So we ignore them for earnings purposes! There is no excuse in terms of the numbers being fit for the last great recession as the grandly titled Professor Sir Charles Bean claims because the series only became our headline data source in the credit crunch era. The 2008 report of Dr Martin Weale (often at the scene of a economic crimes but usually never actually doing anything useful) had lots of technical recommendations but appears to have missed the rise in self employment which started in the early 1980s.
Do we think that it might have impacted the numbers? Hell Yes.
Average income from self-employment fallen by 22% since 2008/09
Today's data
Time to bring out the trumpets and hopefully have something of a fanfare for the common man.
Between May to July 2014 and May to July 2015 in nominal terms (that is, not adjusted for consumer price inflation) both total pay and regular pay for employees in Great Britain increased by 2.9%. The last time a higher growth rate was recorded for regular pay was for the 3 months to January 2009 (3.1%).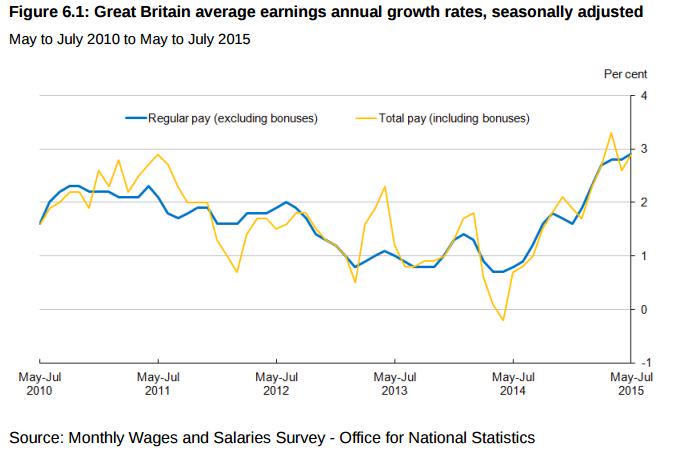 Since real wages began to grow we have received an official analysis of them.
Comparing the three months to July 2015 with the same period in 2014, real AWE (total pay) grew by 2.8 per cent, compared with 2.6 per cent in the three months to June.
Using the official numbers gives us quite a push in nominal wages which since we have "noflation" gives a corresponding surge in real wages.
Some care is needed however if we recall that the RPI was be running at more like 1% and the RPIJ is now 0.5% so real wages based on them would be lower.
If you are looking for signs of even more wage growth in the month of July then wages rose by 3.7% on a year before and private-sector wages rose by 4.4%. So welcome for everyone except if you do the mathematics for the public-sector.
Oh how the Bank of England must wish that it had stayed with the optimism of its February Inflation Report!
we expect the strongest real income growth in over a decade actually.
Since then they have changed their minds several times proving that even when they get it right they then get it wrong.
Oh and I was expecting a good number but it did not require any great prescience as I merely observed the behaviour of someone who gets the data a day early!
Today we see inflation at zero while wage rises go from strength to strength. National Living Wage will help further.
Productivity is finally rising too
In another welcome development there are signs of an improving situation for UK productivity. There had been one or two flickers over the summer but take a look at this.
Total hours worked per week were 994.2 million for May to July 2015. This was:
• 4.0 million (0.4%) fewer than for February to April 2015
• 9.4 million (1.0%) more than for a year earlier
If we look at UK annual economic growth we see that this means that over the past year labour productivity has risen by around 1.5%. There has been an acceleration in the latest 3 months as economic growth of 0.6% according to the NIESR (National Institute for Economic and Social Research) has been accompanied by a 0.4% fall in hours worked meaning a ~1% productivity rise. Happy Days indeed.
The Quantity Numbers
In terms of employment these were generally welcome too.
There were 31.09 million people in work, 42,000 more than for February to April 2015 and 413,000 more than for a year earlier.
Also the gains have shifted from part-time to full-time work.
There were 22.74 million people working full-time, 361,000 more than for a year earlier. There were 8.36 million people working part-time, 52,000 more than for a year earlier.
Hours worked were also up on a year ago although here we do have a cloud in the silver lining as they fell in the latest 3 months. Whilst I welcome the impact on productivity we are left wondering if higher pay has led to less work in recent months.
Comment
As we are in the last days of a UK summer let us have a little sunshine! We have wages rising more like they used to combined with some building productivity growth. What's not to like about that? Indeed the report of the Bank of England Agents back this up with several mentions of it.
The use of new technology and automation was said to be contributing to productivity growth and had softened the employment outlook slightly across sectors.
In case this was missed they had another go.
and to focus on productivity improvements
Whilst they do see a tighter labour market in some areas they do not see wages overheating in any way.
Outside sectors where the availability of skills was tightest, the majority of pay awards had been around 2%.
Where caution is required is in our knowledge of our labour market which the credit crunch era has exposed as one of those swimming without trunks when the tide went out. The wages of the self-employed are ignored for example and these days there are plenty of them .
self-employed people fell by 51,000 to reach 4.51 million
Also the numbers are relying on a surge in July and the series is unreliable on a single month basis. But with wages and productivity apparently rising let us sing along with the Fab Four.
Little darling
It's been a long, cold lonely winter
Little darling
It feels like years since it's been here

Here comes the sun
Here comes the sun,
and I say, It's all right
Currency Wars
Regular readers will know that on here we like to look at things internationally so I enjoyed this reply on today's numbers from WEAYL.
UK Private sector wages up 18% since July 2014 in euro terms?
A Personal Note
This was nice to read yesterday, and Michael Jordan's number too.
@notayesmansecon welcome to @CityAM's UK & Ireland economists top 100. Straight in at #23. http://www.cityam.com/221308/uk-economists-top-100-george-magnus-stephen-king-these-are-most-influential-economic-experts …