Today I wish to look at th recent developments on one of themes of this blog which is the spread of negative interest-rates. In a way we were reminded of it last week when we in the UK were told exactly the reverse by Kristin Forbes of the Bank of England.
the next move in UK interest rates will be up and that it will occur sooner rather than later.
As we remind ourselves of a version of the "Never believe anything until it is officially denied" mantra I have to confess to a little surprise that Kristin Forbes said this. So far she has looked much the more intelligent of the two women appointed to the MPC (Monetary Policy Committee) in recent times but she is joining the "Forward Guidance" promises which have been an embarrassment for Governor Carney as deadlines pass and pass and sooner becomes much later. After all if she wants an interest-rate rise she can vote for it if she chooses. It does,however reinforce my critique that recent Bank of England appointments can be described in Twitter terms as #CarneysCronies.
Today's developments
One side of the economic issues which are nudging the negative interest-rate world is the slow down in China about which we learnt more today. From Reuters.
The world's second-largest economy grew 6.9 percent between July and September from a year ago, the National Bureau of Statistics said,
So below 7% now and slowing which was reinforced by industrial production growth dipping to 5.7% in September although retail sales growth did better. This was not as bad as some expected but rather than being an engine of growth China is stuttering a bit which of course is a factor in world trade growth fading. We can express this via the shipping indices such as the Baltic Dry and Harpex. The Baltic Dry Index has been falling recently and ended last week at 754 which is a lot lower than the 978 of this time in 2014. The Harpex index had been optimistic rising to a high of 648 in the summer but since then has fallen quickly to 448 as of the last reading on the tenth of this month.
The United States will raise interest-rates
This is something which is all over the media and if you missed that then someone will be along soon to promise it from the US Federal Reserve! However if we move from promises to reality something rather curious for those following the MSM mantra happened recently. From the Wall Street Journal.
the U.S. government has auctioned off a string of short-term debt at a yield of zero lately
That is really odd is it not when an interest-rate rise is just around the corner? Well look what happened next.
Yields on bills maturing in a few weeks have been trading in the negative territory lately, but they were only a couple of basis points below zero.
That is mealy-mouthed from the WSJ almost as if it is trying to hold the concept at a distance like it is something unpleasant! US bill yields have been negative before in the credit crunch but when an interest-rate rise is apparently just around the corner?
As to actual issuance at a negative yield the US Treasury is not allowed to do that for now but of course we have seen many such changes in the past few years.
Oh and according to the WSJ then State Street Corp bank has begun charging institutional investors to hold large cash deposits.
Europe
There have been negative interest-rates and yields in the Euro area for a while now with the ECB having an official headline rate of -0.2%. Well here there seems to have been a shift and thanks to Martin Enlund.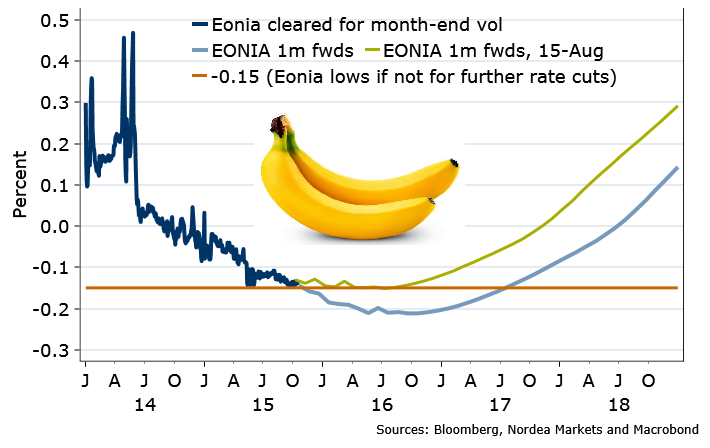 i tend to agree with his bananas theme as we saw strong car registration numbers last week in the Euro area for example. But the shift downwards in the curve would imply that there is a solid chance of -0.2% becoming -0.3%. Of course then we have something else which is bananas which is the idea that a 0.1% interest-rate cuts would have any significant economic effect. But as you can see it is not only US money markets which have a taste for the negative right now. For those unfamiliar with Eonia it is the Euro overnight rate(s).
Remember also that the Euro area is one where negative yields have proliferated. Many countries have negative yields out to the two-year maturity and the German one at -0.27% exceeds the ECB deposit rate. There was a time not so long ago when this was considered to be "unpossible". Indeed the German 5 year yield is at -0.03% which fits oddly with the theme of economic recovery and improvement in both the Euro area and Germany. Somehow a flight to perceived safety continues to trump perceptions of the world economic recovery.
Negative deposit and savings rates in Switzerland
These arrived drip by drip for institutional money as countries moved into the negative zone but there has been a much more delayed move for the ordinary person leading to claims by some that it would not happen. From SRF in Switzerland via helpful but clumsy Google Translate and the emphasis is mine.
A first bank in Switzerland soon leads negative interest rates for small customers: From the first of January, customers of the Alternative Bank Switzerland ABS will not only get no interest, they have to pay even itself 0.125 percent interest that they may give their money to the ABS. The negative interest rates are valid from the first franc on the ordinary account for private payments. That is new. (h/t @acemaxx )
Now ABS is a small bank (33,000) and is offering different products which offering a positive interest-rate but they are not the same as cash/savings which can be immediately accessed. If you were of the view that Swiss banking is a cartel you might think that it is being used as a litmus test to see what happens next.
The most recommended comment tells us this.
This is just the beginning, if the economy continues to cool down in the EU area? Then Draghi must expand its QE program or also introduce negative interest rates, which can then be the SNB still do to weaken the franc? Try to further tighten the interest rate screw.
I assume he/she means negative interest-rates for the ordinary depositor too as the ECB has already a -0.2% rate. Although as Will Hutton demonstrated in the Guardian just over a week ago the fact that negative interest-rates can be found in quite a few places seems to get forgotten.
It needs new smart monetary policies that allow negative interest rates.
Odd from someone who is such a fan and supported of the Euro concept which has had negative interest-rates and especially yields for quite some time.
Comment
The official story is one of economic recovery and promises of interest-rate rises in both the US and UK. Yet even in the UK Andy Haldane of the Bank of England suggested this just over a month ago.
Negative interest rates on currency
We see also that in money markets in the US there are negative interest-rates and they seem to be speading. So we have a very different form of recovery and economic policy as we see that the promised interest-rate rises have not materialised and people wonder when the next downturn will be. It is also true that there are safe haven issues but why do people want a safe haven in a recovery?
In a way we may be back to the banks who have a business model which does not work at low and especially not negative interest-rates. Please do not misunderstand me bank directors have done extremely well out of the capital gains from bond holdings and so on. They have been able to present in effect capital gains at a time when the underlying model loses its gains from positive interest-rates. In some areas they are able overcharge and make profits but in general the model is not good here. So they need another cheap hit of capital gains from negative interest-rates but the junkie culture then faces a cold turkey of an even weaker business model especially if depositors depart the scene.
Therefore we should all cross our fingers and just like Carly Rae Jepson "really really really really really really" hope that the current economic expansion continues.