Let me open today with what was a response to the Press Conference of Mario Draghi and the European Central Bank from me on Twitter.
Right now the @riksbanken@nationalbanken and Swiss National Bank are rubbing Mario Draghi off their Christmas card list!
So he had not made any friends in Sweden,Denmark and Switzerland and if any of them play darts then a picture of his face may now be on the dartboard. Interestingly there had been no policy moves by the ECB so Mario had deployed Open Mouth Operations or Forward Guidance. I had been discussing on Share Radio's Global Perspectives programme earlier the issue that against the US Dollar the Euro was pretty much where it was when the QE announcement was made in January. Actually that is also true of the trade-weighted exchange-rate so it woudl appear that Mario looked into his record collection and found inspiration from Boz Scaggs.
Oooh I'm all down on my knees
Please please please
What can I say
Oooh what can I do…
What did Mario do next?
He decided to fully engage in Open Mouth Operations in the Currency Wars. The emphasis is mine.
Most notably, the strength and persistence of the factors that are currently slowing the return of inflation to levels below, but close to, 2% in the medium term require thorough analysis. In this context, the degree of monetary policy accommodation will need to be re-examined at our December monetary policy meeting, when the new Eurosystem staff macroeconomic projections will be available.
Boom! You might say. Also you might be wondering why central banks go into purdah when at other times they are willing to give a clear hint and signal some two months ahead? Indeed Mario was so keen on this he told us again and for newer readers the ECB defines pretty much everything around its inflation target. It was not so long ago that a former President Jean Claude Trichet boasted about averaging 1.97%. Not now though.
there are risks….. which could further slow down the gradual increase in inflation rates towards levels closer to 2%.
What will he do?
There were two clear hints and let me open with the one I had suggested might be in the cards on Monday and yesterday.
On the interest rate on the deposit facility, I said before – , I had said it was not discussed. This time it was discussed. Further lowering of the deposit facility rate was indeed discussed,
Not only were currency markets electrified but the central banks of Sweden,Denmark and Switzerland and maybe one or two others would have had their heads in their hands and mulling the thoughts of David Bowie on their housing markets.
And I've been putting out fire
With gasoline
But Mario was not finished as he also hinted at some more QE. Apparently 60 billion Euros  a month does not buy you much these days so Mario may well do more. This seems the most likely to me and the emphasis is mine.
These purchases are intended to run until the end of September 2016, or beyond, if necessary, and, in any case, until we see a sustained adjustment in the path of inflation.
Later there was rather a good question on this issue which I shall leave hanging in the air as it has been a theme on here for 5 years or so.
is there a risk that the ECB will just kind of fall into a trap of QE without end? That you keep doing it, that you keep buying government bonds?
The questioner should have remembered the film Toy Story and Buzz Lightyear. This troubled Mario Draghi so much that he woke up Vice President Constancio to help with the reply. Awkward for Victor who used to be able to have a relaxing nap at these meetings. He has been woken up twice in recent times ( and maybe more if you include the glitter throwing incident and the understandably furious Greek who rapped his shoe on the table) which is a signal of trouble on its own if you think about it.
Currency Wars redux
The Euro dropped like a stone and against the US Dollar dipped below 1.11 this morning after being above 1.13 before Mario took aim at it. If we move to the UK Pound Sterling then 1.36 became 1.38. Of course this is not even 24 hours later as I type this but we can say that there was a clear short-term change.
Such moves poses questions for the UK and US but what if you have a currency peg to the Euro? Denmark does and the Swiss have given a currency cap a go and that is why they both have interest-rates of -0.75%! On Wednesday there were rumours of Swiss National Bank intervention which replaced a period of relative calm. I suppose if you are in the game for 583 billion Swiss Francs then what's a few more? Although of course I am not writing from the perspective of a Swiss taxpayer. So let us mark 1.08 as the exchange rate today and move on.
Bond market bonanza
Let us start with the Swiss where @acemaxx has provided a helpful chart.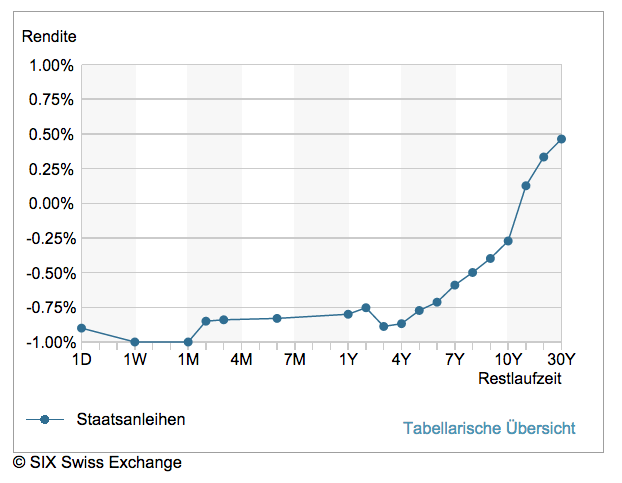 Yep that does show negative yields out to 15 years. If we stop for a moment to consider this we can wonder how many finance,insurance and pension business models work in such an environment and conclude that they do not.
In the Euro area itself there has been a change in that 14 of the nations now have negative two-year bond yields with Italy and Spain joining the list for the first time according to Reuters. Oh and the two-year yield in Germany has fallen to -0.35% which means that all the research which told us that bond yields would not drop below the deposit rate can safely be filed in the recycling bin.
If we move to Denmark then we see that according to Bloomberg there had already been a change.
Economists recently surveyed by Bloomberg see negative rates continuing into 2017. That's not necessarily because they expect rates to rise after that, but because their models just don't go any further.
Probably for best if we consider the accuracy of long-range economic forecasts! But sadly for Bloomberg's reporters they had not read my blog and so they took a wrong turn.
Rate cuts are improbable
Although to be fair they do much better here.
Denmark has had mostly negative interest rates since mid-2012…..Main effects have been higher asset prices, not growth
What about those crazy Swedes?
Well Myndos Capital put it succintly.
Hence, the repo rate is expected to be lowered by 10bp (to -0.45%) in December if not before.
Oh and in spite of the fact that by the end of the year the Riksbank will own 24% of the Swedish government bond market they expect more QE too. So property owners in Stockholm will let out a cheer of "thanks" which may even cross the Atlantic and reach the ears of Paul Krugman.
Comment
As we appear set to plunge even deeper into the rabbit hole of negative interest-rates there is much to consider. I consigned "lower bound" into my financial lexicon for these times a while ago but there are more nuances now and it was reminiscent of the Mad Hatters Tea Party when Mario Draghi asked himself this question yesterday.
the issue there is how come we announced a year ago that that was practically the zero lower bound and now we're thinking of going into further negative territory?
Poor old Mark Carney is of course wounded twice by all of this. Firstly his lower bound is a "curiouser and couriouser" +0.5% and secondly his promise of an increase in UK Bank Rate. As to Mario well there is this.
"It's no use going back to yesterday, because I was a different person then."
As to Forward Guidance then Mark Carney is trying to be a Pied Piper for UK mortgage holders whilst Mario Draghi is playing the opposite tune. A clash of the titans?
"What a strange world we live in…Said Alice to the Queen of hearts"